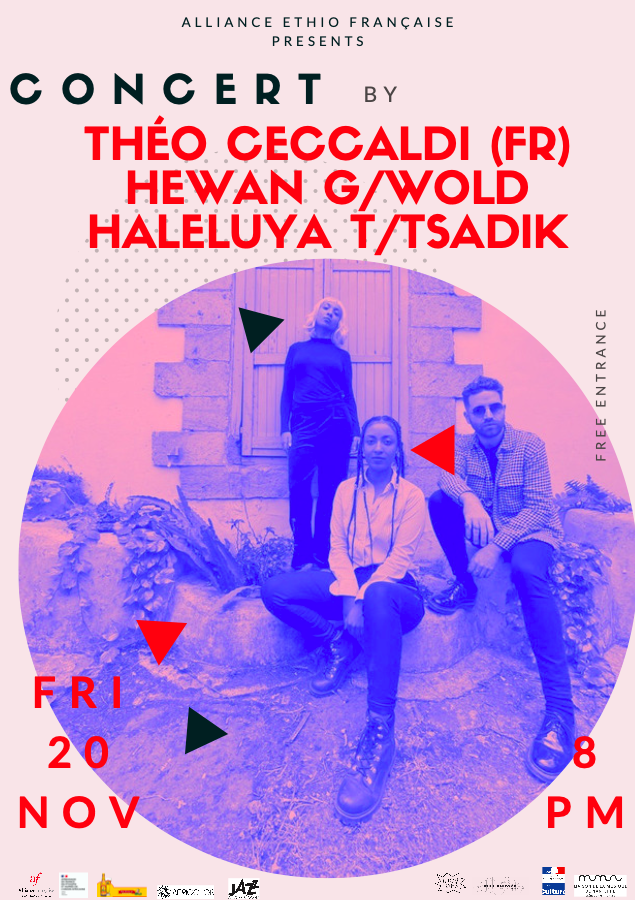 Concert by Theo Ceccaldi, Hewan G/ Wold & Haleluya T/Tsadik
This is one not to be missed!!
Remember French violinist virtuoso Theo Ceccaldi, whose thirst for new sonic scapes brought to Ethiopia, and treated us with a mesmerising improv session alongside many talented Ethiopian guests?
Guess what? He's back! Further to jamming with all these musicians, he met his musical matches in the names of Hewan G/ Wold and Haleluya T/Tsadik, two bold Ethiopian singers and vocalists of recently disbanded Ethiopian rock phenomena Jano.
The three of them have been rehearsing here at Alliance for the last three weeks in order to compose and finalise a telluric and cosmic set, somewhere between traditional azmari influences, infuriating electro-mystic trance, storming slam and punk energy. These three are up for something high, high, high!
Tonight, they will perform classic Ethiopian tunes twisted with Theo's incandescent ardour as well as one or two of the original tracks co-created here. Don't miss on the premiere of this Ethio-psychedlic music stroll that will send sparks flying…
The project is co-produced by Brouhaha, Full Rhizome, Festival Africolor, DRAC, La Maison de la Musique de Nanterre, Théâtre Municipal de Coutances – Festival Jazz sous les pommiers and Alliance Ethio-Française.
Concert will be held on our outdoor area. Please bring your masks, IDs and respect social distancing!
"Revelation of the year" (Franck Ténot prize) at Victoires de la Musique 2017, elected French Musician of 2016 and French Revelation of 2014 by Jazz Magazine, Théo Ceccaldi surely figures as one of the most singular voices of the new European Jazz scene. Fantastic, virtuoso, lyrical, funny and moving: each of his creations is carved like velvet and punctuated by incandescent ardour.
His music might sound anarchic, but is actually an extremely intelligently developed rollercoaster of moods, dynamic curve and abrupt breaks, crowned with confident improvisation. The dizzying variety projects he creates have taken him from psychedelic punk jazz with "FREAKS" to restyling ballroom dance with pianist Roberto Negro.