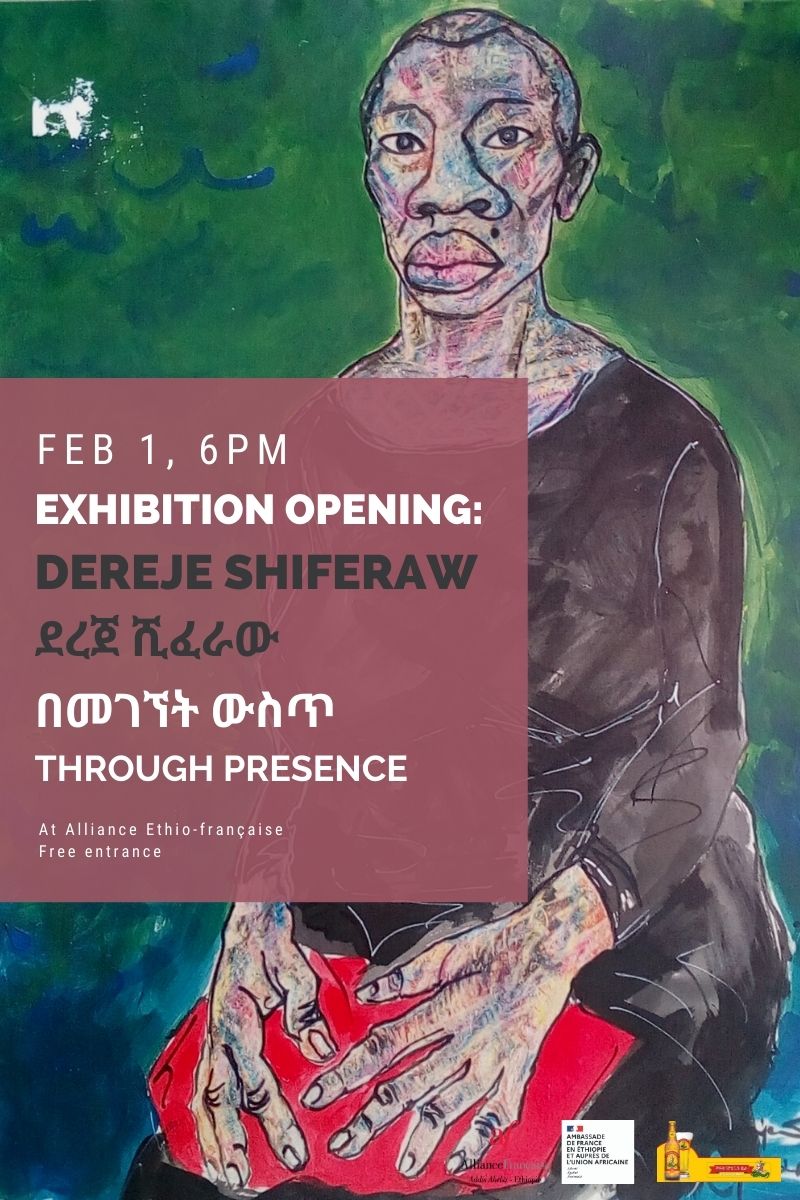 Solo exhibition: Dereje Shiferaw
Dereje Shiferaw is an intuitive and gifted painter, born in Asmera in 1978, whose "…combined love for art and nature…has found its way into my life…" states the avantgarde Artist. Alliance Ethio-Francaise presents Dereje's newest body of vibrant works, entitled "በመገኘት ውስጥ" translated "THROUGH PRESENCE," opening to the public on Monday February 1st . Dereje's deliberate bold brush strokes and incomparable oil pastel technique, create deep multi-dimensional compositions set in contrasting environs from tranquility to turmoil. Where many artists are refining and defining, Dereje is emphasizing and questioning. His signature Continental melanated men and women, project lush illustrious lips with huge contorted hands accentuated with simple yet stylized nose and eyes which speak volumes. They are familiar yet funky and fresh and Dereje is unbridled by any academic pedagogy or formula; hence he freely goes where most formally taught artist dare to venture, making him exceptional.
The self-taught stay-at-home-dad Artist, whose work has been exclusively collected by foreigners and exhibited abroad, interrogates life through his art; promoting his philosophy of "1+1=3". Basically, Dereje declares "…recognition of the higher power always present, amongst and with us…" and is comfortable leaving judgement to that Ultimate Arbiter. "Influenced by nature, human beings, social elements to questionable politics, culture, economic circumstance in Ethiopia, Africa and worldwide…" according to Dereje, he gathers motivation at every turn. Inspiration is everywhere…from his infant daughter's sounds and movements against the soundscape of jazz music softly playing in his studio to the hidden monastery cave across from his home/studio…he creates and shares his codified colorful chronicles with the world.
Amongst his neatly framed 45 paper works surprise awaits however. A selected number of water color portraits and cityscapes reveal a master at classical styles, proving that Dereje's art can stand the test of time and international review. Dereje's art is poetic, even musical; providing vision, voice and victory for his subjects. Dereje shares, "The Intriguing dialogue between the subject's message and the viewer is compelling…physically and emotionally invested in the subject's story, my aim is to capture the sprit, essence and heritage of my subject and use this as an opportunity for the world to peer into the lives and struggles of people whose stories are yet to be told…".
By Dr. Desta Meghoo
Exhibition closes February 18.
In order to respect our health protocole, please bring your mask and ID.
Facebook event here.
Look forward!