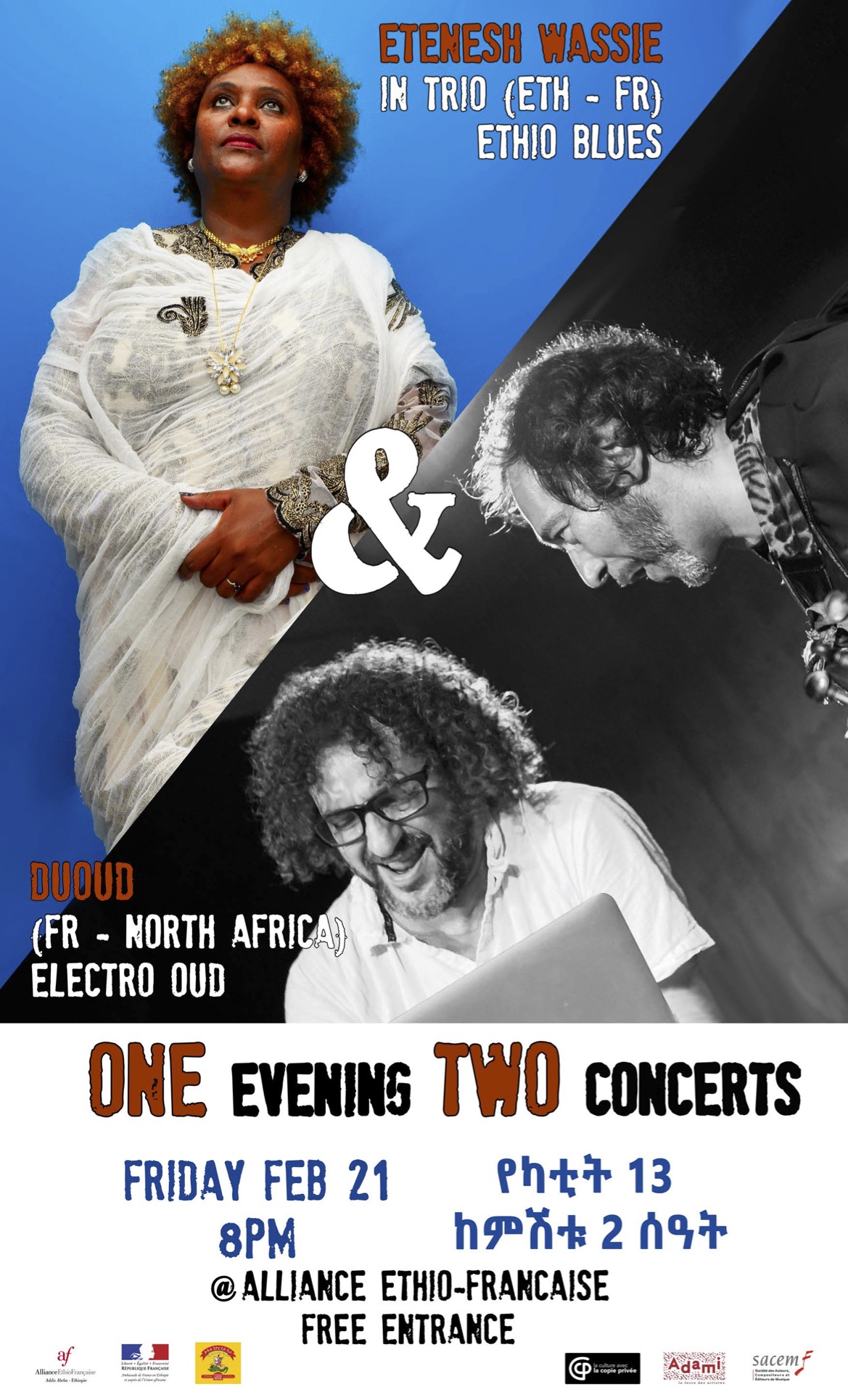 Two concerts: Etenesh Wassie in trio (Ethio-blues) and DuOud (Electro-oud)
One night, two concerts: let's embark together on a musical journey at the crossroads between the African continent and France.
8pm: Since their first encounter in 2007, Mathieu Sourisseau and Etenesh Wassié share an incredible artistic complicity. While the roots of their inspiration lies in traditional Ethiopian songs, they are constantly challenged and revisited through playing styles and melodies that blur the genres. Etenesh's wild and deep voice combined with Mathieu's bass play with influences from all over the world, carries us towards lands where Ethiopian traditional sounds and blues are blended. It is an emotional journey. The warmth of Sébastien Bacquias's double bass and the depth of the acoustic bass unite perfectly with the deep tone of Etenesh's voice. We can feel rock, jazz, improvised music and world music influences. A world where this unique voice can self-express in total freedom.
9.30pm: DuOud consists of two oud playing ; Tunisian born Jean-Pierre Smadja (already noted for many albums he issued as Smadj), and Algerian born master oud player Mehdi Haddab (known for his work with the acclaimed French based trio, Ekova, and more recently Speed Caravan). Blending their North African heritage with the latest Western technology, the pair builds a musical cycle that looks to their African roots while absorbing and morphing contemporary music styles – break beats, jazz grooves and metal guitar. Respectfully insolent with the instrument tradition, alternating "classical" Arab tunes and personal compositions, warmth of the acoustic instrument and electronic saturation, Duoud burnt the stage during many years and manage to surprise every fans at each new composition.
Free entrance
More info about Etenesh Wassie in trio here. Listen to their music here.
More info about DuOud here. Listen to their music here.
—————————————
Une soirée, deux concerts exceptionnels:
20h: Les racines éthiopiennes de la musique jouée par Etenesh Wassié (voix – Ethiopie), Mathieu Sourisseau (basse électro-acoustique – France) et Sébastien Bacquias (contrebasse – France) sont indéniables mais le trio explore un territoire beaucoup plus large. Bien loin du clinquant des musiques du monde pensées hors sol. Ce qui s'invente, avec classe, dans la réunion délicate de ces trois artistes naît de la friction de l'éthio-trad aux textures noise, de l'art consommé de la nostalgie folk aux scansions câlinées par un groove solide. Une forme traditionnelle comme le Tezeta rejoint alors le terrain du blues et, donc, du jazz africain-américain. Fabuleux.
21h30: Smadj et Mehdi Haddad, enfants de l'effervescence musicale parisienne des années 90, ont choisi le oud comme on choisit sa pâtisserie préférée : par gourmandise assumée, sans crainte et sans complexes. DuOuD (le mot est un palimpseste) se compose de deux joueurs de ouds : Smadj, producteur et ingénieur inspiré, qui a sorti plus de 10 albums sous son nom et le magicien et maître Mehdi Haddab (leader d'Ekova et de Speed Caravan). Mixant leurs héritages nord-africain (l'un est né à Tunis, l'autre à Alger) avec les dernières technologies, le duo revisite l'instrument, ré-invente les classiques et compose. 
Entrée libre.