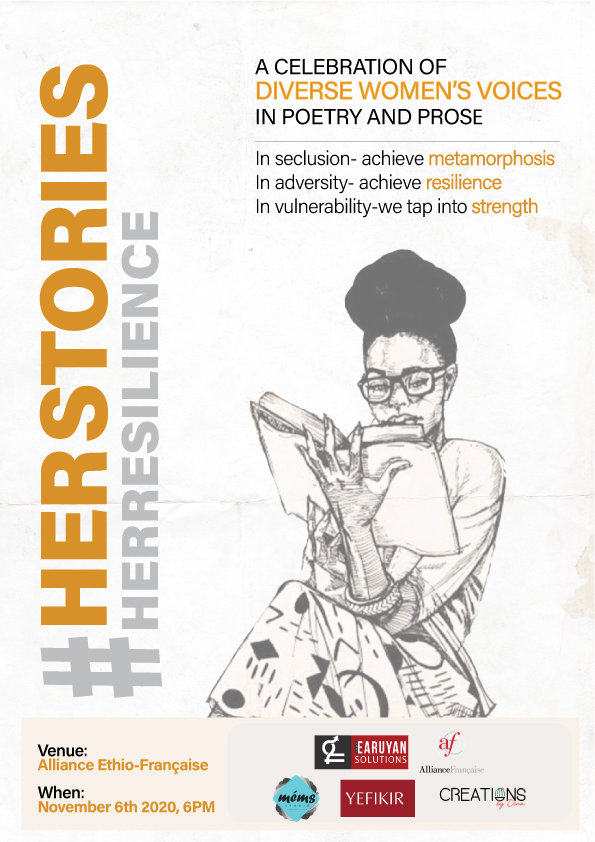 POSTPONED // HERstories: an evening of poetry and prose
For reasons related to the very specific context, it is with a heavy heart that we inform you that the #HERstories event meant to be held today Nov 6 is postponed until a later date. Thank you for your understanding.
Further to 7 months apart, we are thrilled to welcome you again to the 3rd edition of #HerStories, an evening of poetry and prose that promotes augmenting the voices and perspectives of Ethiopian women through the written word. An annual event, #HerStories features multigenerational women writers of various backgrounds and experiences. This year, the program will take place on November 6th here at Alliance under the theme #Herresillience. 
The event will be held indoors. For sanitary reasons, audience will be limited to more or less 30 people, on a first-come first-served basis. The event will be streamed live as well. Link will be shared on the Facebook event page.
The event is powered by Earuyan Solutions, a social justice and impact-driven feminist social enterprise supporting organizations and individuals to promote gender equality and transformative feminist leadership.
FB @earuyansolutions // Twitter: @earuyansolutions
The event was made possible thanks to the support of Yefikir Design, Creations by Dina and Mems Studio.