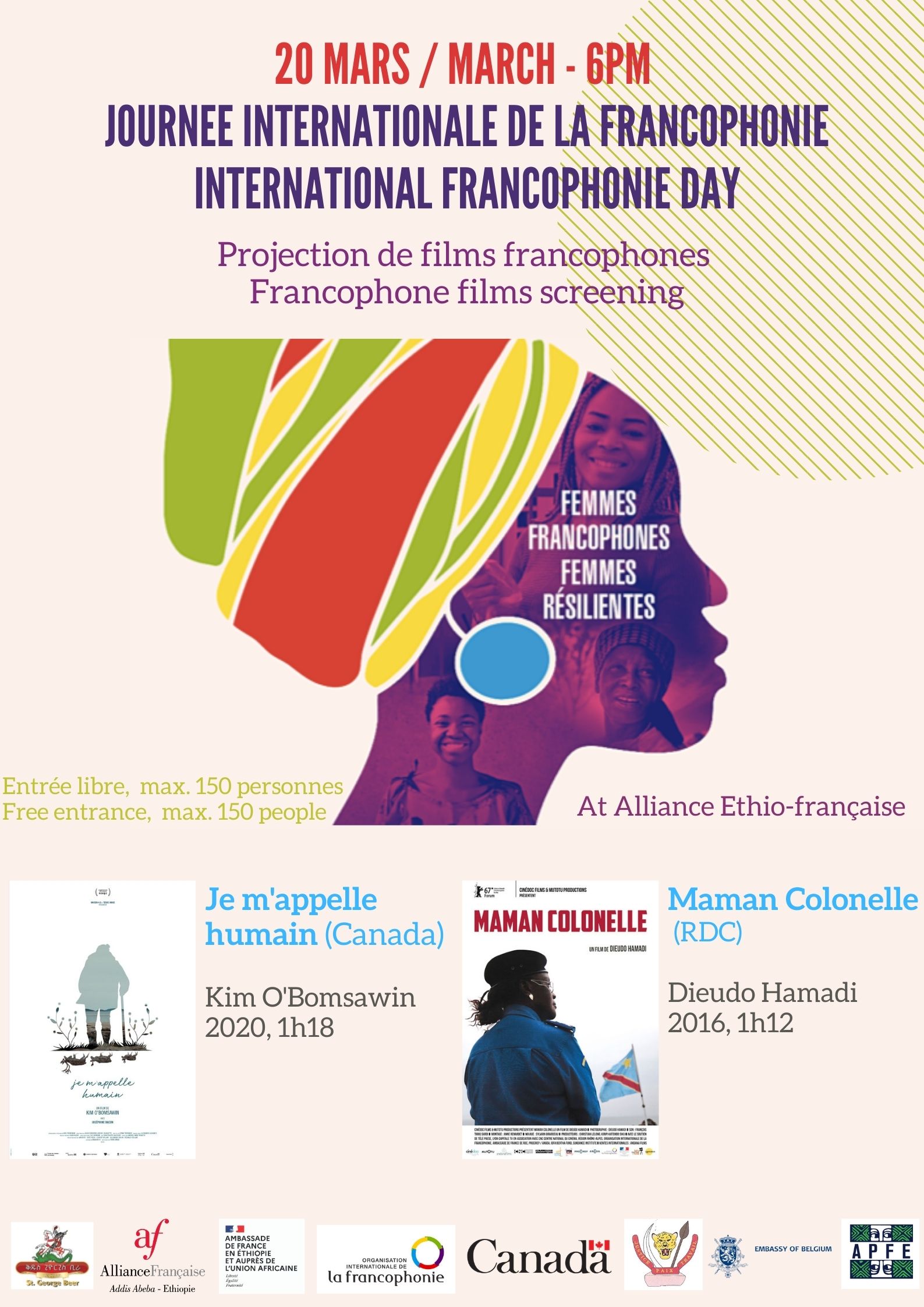 Journée Internationale de la Francophonie: Cinéma en plein air
FRENCH (English below):
Les institutions francophone se réunissent pour célébrer la Journée Internationale de la Francophonie avec pour thème « Femmes francophones, femmes résilientes ». Une soirée, belle et intime, se prépare, mettant à l'honneur deux femmes à travers des documentaires du Canada et de République Démocratique du Congo. Multilingue, sous-titré en anglais.
18h: ouverture des portes
18h30: "Je m'appelle humain" (2020) – CANADA
La poétesse innue Joséphine Bacon entraîne la réalisatrice sur les lieux qui ont marqué son passé. Portrait délicat d'une figure importante de la culture autochtone qui avec charisme et sensibilité, mène un combat contre l'oubli et la disparition d'une langue, d'une culture et de ses traditions. Sur les traces de Papakassik, le maître caribou, Je m'appelle humain propose une incursion dans l'Histoire d'un Peuple multimillénaires aux côtés d'une femme libre qui a consacré sa vie à transmettre son savoir et celui de ses ancêtres. Dans sa langue, innu veut dire «humain».
Film en VO – sous-titres en anglais // Trailer ici.
19h45: "Tutu" (2018) – BELGIQUE
Court-métrage d'animation de Gaspar Chabaud. Le conte du Petit chaperon rouge raconté sur scène, sous le feu des projecteurs et au rythme d'une musique de Piotr Ilitch Tchaïkovski.
Sans dialogue.
20h: "Maman Colonelle" (2016) – RDC
La Colonelle Honorine travaille au sein de la police congolaise où elle est chargée de la protection des enfants et de la lutte contre les violences sexuelles. Alors qu'elle travaille depuis 15 ans à Bukavu, à l'est de la RDC, elle apprend qu'elle est mutée à Kisangani. Sur place elle se trouve face à de nouveaux enjeux. À travers le portrait de cette femme d'un courage et d'une ténacité hors du commun qui lutte pour que justice soit faite, le film aborde la question des violences faites aux femmes et aux enfants en RDC.
Film en VO – sous-titres en anglais
Projection en extérieur.
Afin de respecter notre protocole sanitaire, l'évènement sera limité à 150 personnes. Merci de venir munis de votre masque et de respecter une distanciation sociale.
/////////////////////////////////////////////////////////
ENGLISH:
Francophone institutions are coming together to celebrate the International Day of Francophonie, with this year's theme: "Francophone women, Resilient women". A beautiful and intimate evening is coming up, putting two women in the spotlight through the screening of Canadian and Congolese documentaries. Multilingual, subtitled in English.
6pm: doors open
6.30: "Call me human" (2020) – CANADA
This Canadian documentary film is a portrait of innu poet Joséphine Bacon and her immense efforts to salvage and preserve her elders' ways of thinking and traditions. When elders leave us, a link to the past vanishes along with them. Innu writer Joséphine Bacon exemplifies a generation that is bearing witness to a time that will soon have passed away. With charm and diplomacy, she leads a charge against the loss of a language, a culture, and its traditions. On the trail of Papakassik, the master of the caribou, Call Me Human proposes a foray into a people's multi-millennial history in company with a woman of great spirit who has devoted her life to passing on her knowledge and that of her ancestors.
Trailer here.
Film in Original Version + English subtitles.
7.45pm: "Tutu" (2018) – BELGIUM
Short animated film by Gaspar Chabaud. The fairy tale of Little Red Riding Hood told on stage, under the spotlight and to the rhythm of music by Piotr Ilitch Tchaikovsky.
No dialogue.
8pm: "Mama Colonel" (2016) – RDC
Colonel Honorine worked in Bukavu's police force for years as part of the Child Protection and Anti-Sexual Violence Unit, highly regarded for its effectiveness and the confidence it has able to restore in the community. But when Colonel Honorine is transferred to Kisangani, she must start over from scratch. Shortly after arriving in her new post, dozens of victims of sexual violence from the 6-Day War between Rwandan and Ugandan troops, land in her office. Thus begins a new challenge for the Colonel who is determined to fight for the recognition and support of these forgotten women, these outdated lives.
Film in Original Version + English subtitles.
Outdoors screening.
In order to comply with our health protocol, the event will be limited to 150 people.
We kindly ask you to bring your mask and respect social distancing.