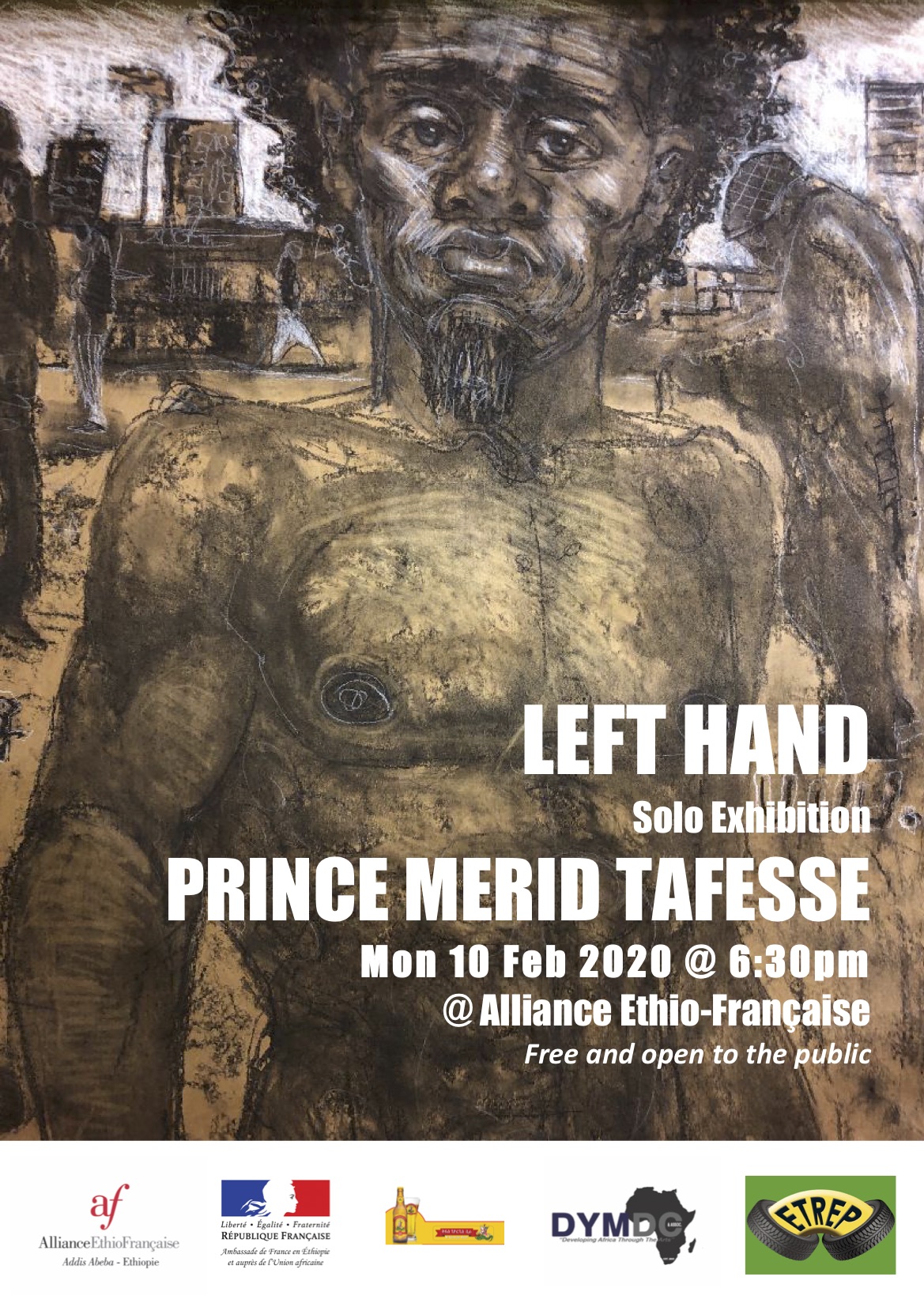 LEFT HAND, a solo exhibition by Prince Merid Tafesse
LEFT HAND, a solo exhibition by Prince Merid Tafesse, opens to the public on Monday February 10, 2020 at the Alliance Ethio-Française in Addis Abeba. This is the lefty's first solo exhibition at the Alliance since WOOD FIRE CHARCOAL in 2003. LEFT HAND will poke and even provoke viewers with graphic imagery, ranging from taboos to technology in almost 100 never before seen pieces, mostly charcoal on paper – A3 size to 2.5m high and wide, with one exception. An oversized gold pen on black board entitled, Mulatu Astatke – Scientists in Sound, created through inspiration from the Ethio-Jazz giant depicting Ethiopia's contributions to classical and contemporary music. However, history converges with current affairs in this body of deep sometimes disturbing works, reflecting the soft-spoken Congo-locked artist's connection to his nation's present political status. His deep piercing eyes capture mental snapshots of subjects, brought to life through flawless representations, stating, "I don't use photos or models…my passion for charcoal allows me to catch the thoughts passing through my mind before they drift away." His fearless visual treatise represents a wider statement on the social and political conditions on the continent and for Blacks in the Diaspora for that matter, stating our "…human relations, externally influenced, fight against the truth in our heart, impacting our exploration of geopolitics, race and spirituality. Art opens eyes and heals…".
A prolific painter with keen intellectual and an unapologetic approach, he became known as the King of Charcoal in Addis following a residency in Jerusalem, just months after graduating from Alle School of Fine Art and Design in '99. For a decade the avant-garde artist created intense compelling paper works with endless shades of grey, exhibited internationally with selected works received into MOMA archives via Curator Meskerem Assegued in 2004. The artist-ocrat began a movement for charcoal, mostly used for studies, inspiring the current trend amongst many Ethiopian contemporary artists. True to his royal roots, the artist is inspired by his lineage. He is the 6th gen greater grandson of King Sahle Selassie Wossen Seged of Shoa from the Imperial House of King Solomon and Queen Sheba, stating confidently, "I have a duty to declare, defend and depict Africa's greatness and resilience…my art says it all."
Free entrance
Facebook event here.