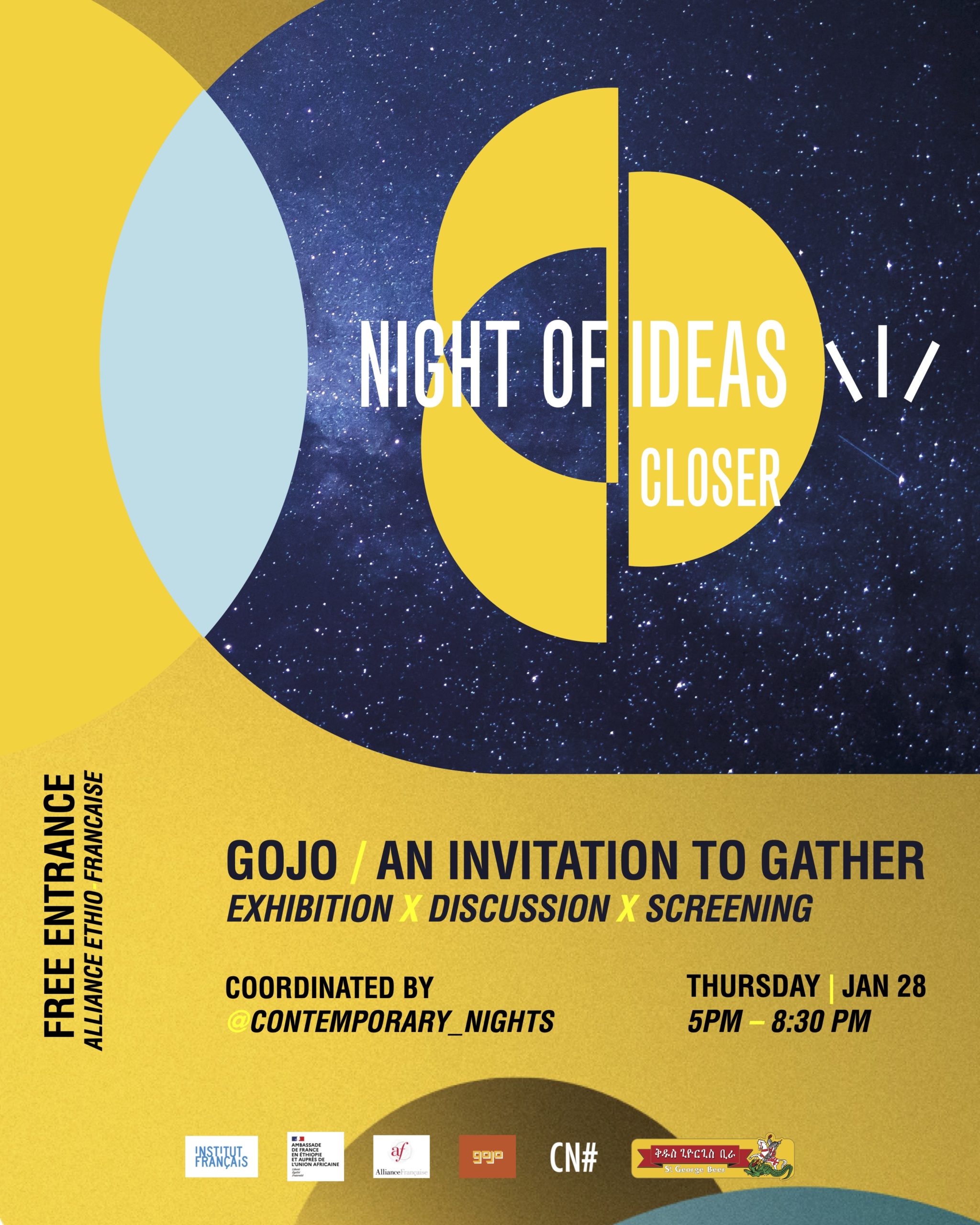 Night of Ideas "GOJO: an invitation to gather"
The Night of Ideas 2021 will bring us together this year around the theme: "Closer".
Informed by our varied yet interconnected lived experiences of the global pandemic and consequent disruptions in Ethiopia, GOJO proposes to organize an immersive and intersecting experience designed to explore emerging interpretations of closeness within the 2020 backdrop.
The evening is an invitation to engage with our diverse community members through a series of dialogue and experiential activities. We choose to implement a process-driven curatorial approach that centers the audience at the core of the evening's activities. These activities are divided into "gojos", "nest" in Amharic, each of them led by a local artist/collective/organisation and interrogating the theme of the evening through a specific entry point. The gojos are intended to be generative exercises, prompting participants to pull from their personal experiences and become part of a process in imagining a new genre of "closeness" informed by our shared and individual experiences of the past year.
We are thrilled to count with the participation of photographer Mekbib Tadesse, urban planner Yasmin Abdu Bushra, Doctors in Action amongst others.
Stay tuned!
This event is curated by Sarah Bushra and coordinated by Contemporary Nights.
Please kindly bring your mask and ID.
Facebook event here.
Launched in 2016 by Institut Français in France, the Night of Ideas very quickly established its place on the French and international cultural calendar: every year, on the last Thursday in January, the Institut français invites all institutions connected to culture and knowledge, in France and on all five continents, to celebrate together the free circulation of ideas and knowledge by offering, on that same evening, conferences, seminars, forums and round tables, but also screenings and artistic performances… all inspired by a common theme, which each venue is free to interpret in its own way.