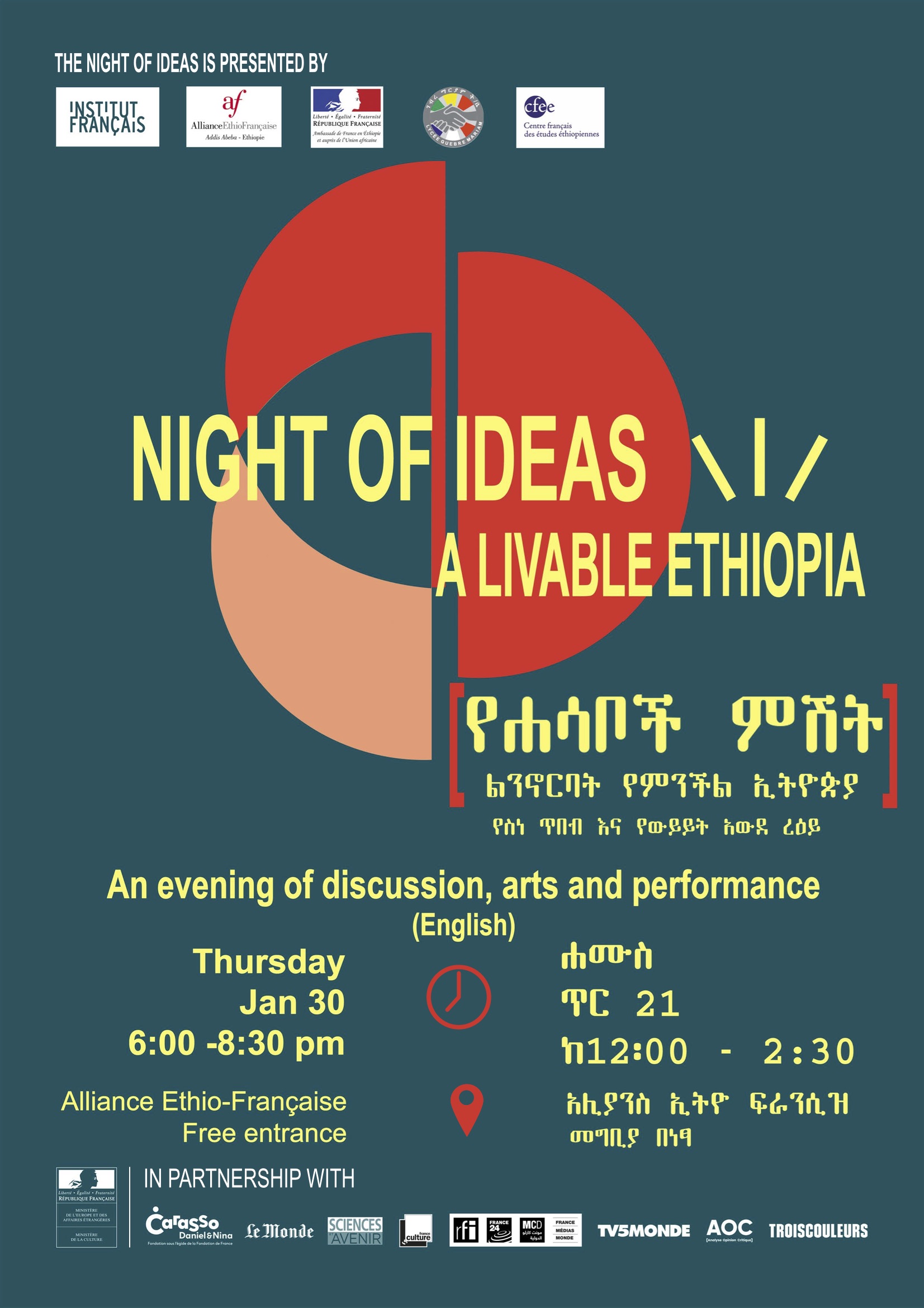 Night of Ideas: "A Livable Ethiopia"
The night of ideas 2020 will bring us together this year around the theme: A livable Ethiopia.
Livability: at a time of environmental crisis and major changes in our lifestyles, between permanence of rural life, accelerated development of urban life and new technologies, this theme sounds both a question and a requirement . What is living in Ethiopia today? What is a livable Ethiopia, both ecologically and politically?
Jean-Renaud Boisserie, research director at CNRS, director of laboratory Paleontology Evolution Paleoecosystems Paleoprimatology (PALEVOPRIM, University of Poitiers), Associated researcher to the CFEE and Principal Investigator of the Omo Group Research Expedition will speak along with Jean-Baptiste Eczet, anthropologist and ethnologist at the EHESS (Ecole des hautes études en sciences sociales). Together,  they will explore the concept of "being alive" from a dead perspective: organisms assume a huge diversity of shapes whereas important features seemingly typical of life can also be observed in non-living objects. Fortunately,  life appeared on Earth a long time ago and left a substantial fossil record (including in the rocks of Ethiopia) that we can use to explore what "being alive" means. Paleontology and biology tell us that life changed a lot through deep time, dramatically modified the surface and atmosphere of our planet, making it overall more "livable," yet not without powerful about-turns. Humans and all their attributes emerged as a part of this historical process, with major implications for our present and future. A discussion facilitated by Dr Yonas Beyene, researcher associated to the CFEE, will follow the conference.
Further to the above, Poetic Saturdays and Fekat Circus will jointly perform a social commentary on the relationship between Ethiopia today: the contrast of the city and the rural. We tell a story of two people each longing of what the other has. Through words, music and circus acts the show will imagine a world   here development is the elevation of all.
6pm: conference (English)
8.30pm: performance by Poetic Saturdays / Fekat Circus (English and Amharic)
Facebook event here.
Free entrance