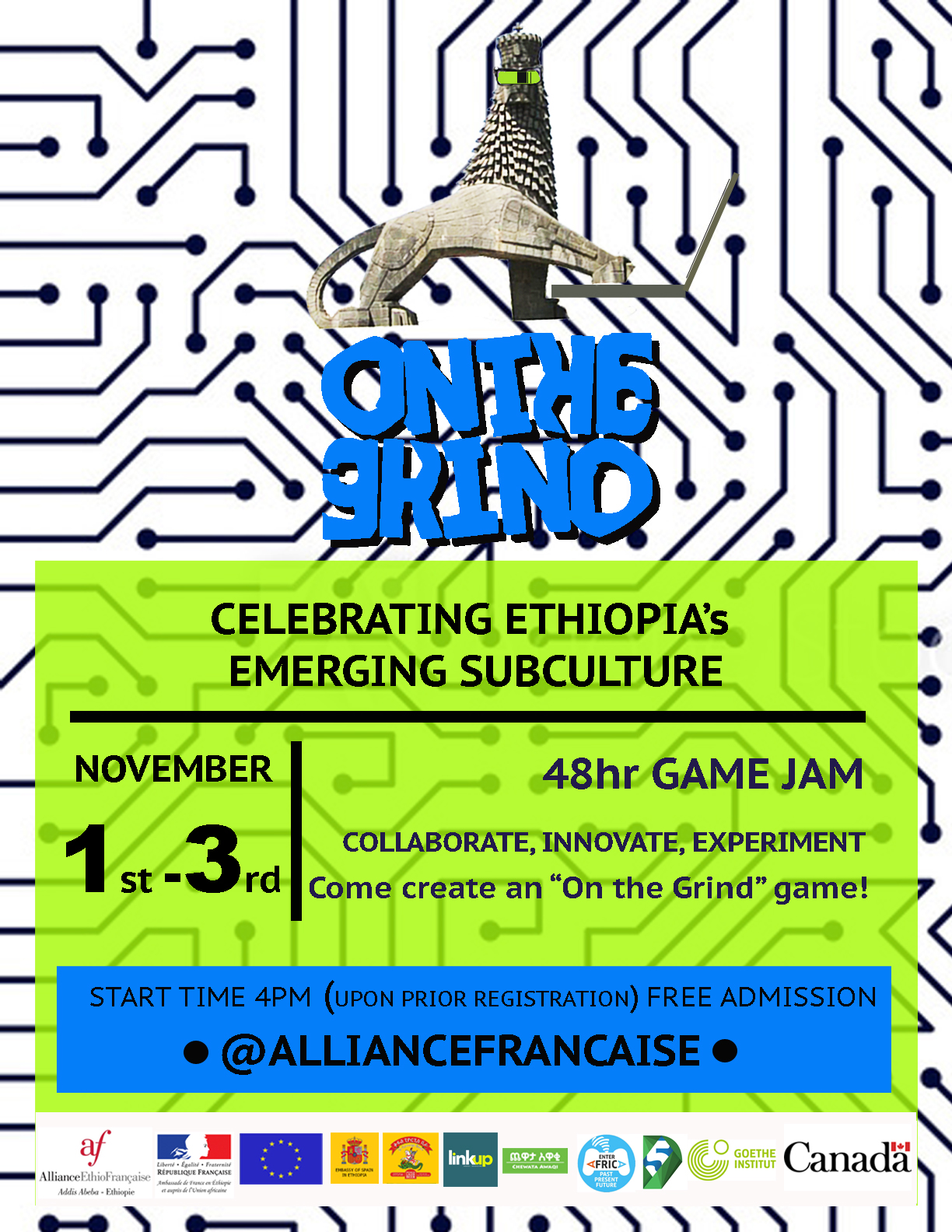 On the Grind 48h Game Jam
The On-The-Grind Game Jam is a 48 hours game creation event part of the ON THE GRIND festival, which aims to celebrate the rise of subculture in Ethiopia. Everyone from game developers to educators to artists and designers are welcome to participate.
Once the jam begins, participants come up with game ideas, form teams to work together and build these games in just 48 hours. These games will be showcased on the public On-The-Grind day on November 9th. There will be sleeping mattress and snacks but make sure to come with your equipment.
Start Time: Nov 1, 4pm (no leaving the compound after 7pm)
End Time: Nov 3, 4pm
Location: Alliance Ethio-francaise
Participants need to bring their equipment (laptops, drawing pads etc)
Participants will register on the following link:
https://docs.google.com/forms/d/e/1FAIpQLSfnt9e7zoAGkPuDrsA1tQgQhJYQRXUvdKryCmptczNKoec25Q/viewform
Expected Participants Number: 10 – 35
This game jam is co-organised with Chewata Awaqi and D5 Gamecon.
This entire festival is made possible thanks to the support of Ambassade de France en Éthiopie et auprès de l'Union africaine የፈረንሳይ ኤምባሲ, BGI Ethiopia PLC, The Embassy of Canada to Ethiopia, European Union in Ethiopia, Embajada de España en Etiopía, Yibuti y Seychelles, Goethe-Institut Addis Abeba, LinkUp Addis.