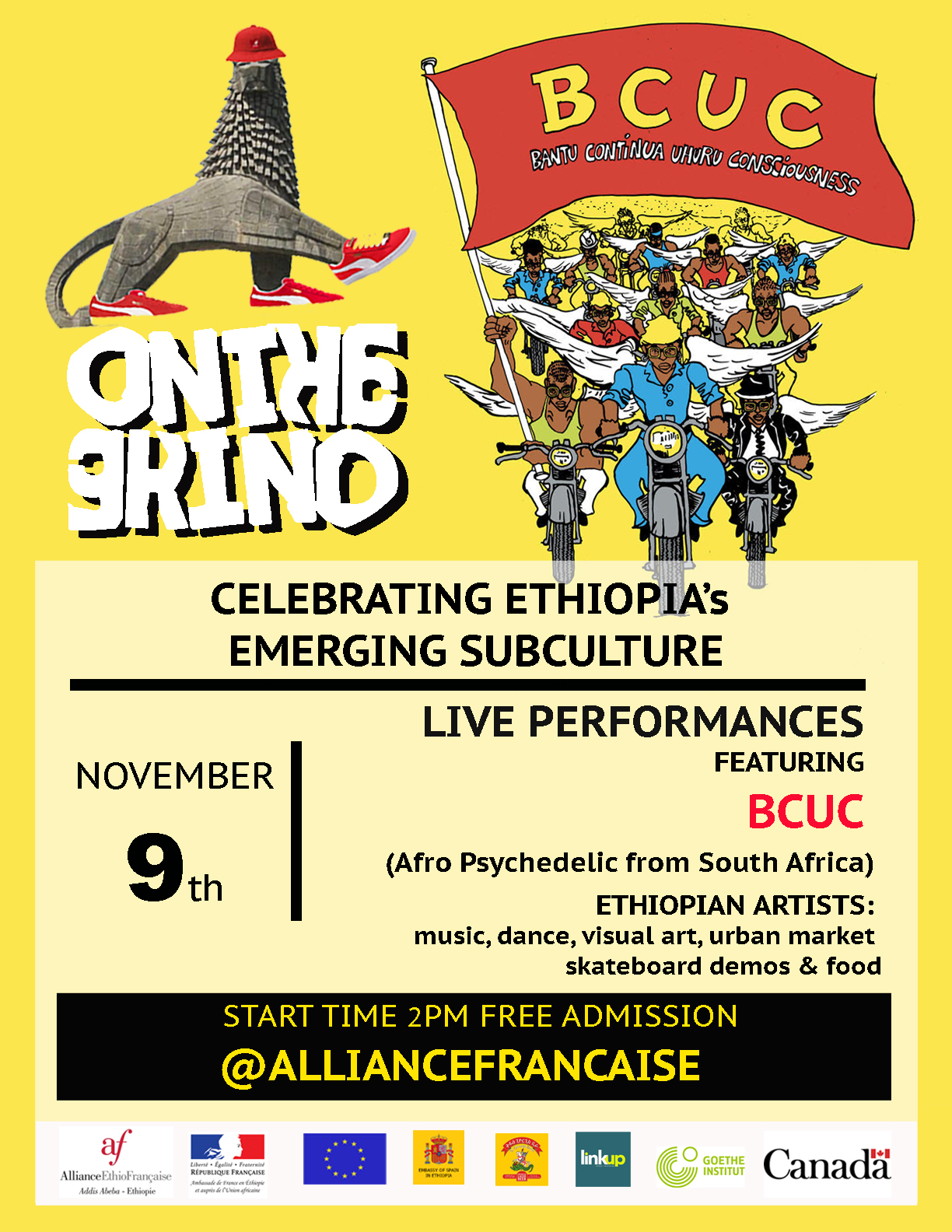 On the Grind: grand finale!!!! feat. BCUC (South Africa)
Time has come: this is the last event. The grand finale of an epic 3-week On the Grind festival! Trust us, we're certainly not going to let you down now!
This Saturday is a whole day of celebrating the fantastic blossoming of subculture in Ethiopia and Africa. The event explores hip-hop culture through music, games, graffiti, skateboard and fashion, among other symbols. Together, they illustrate the rise of hip-hop as a form of expression, a global language able to speak both to and through youth.
The day will feature:
– An urban market place including Ethiopian products and brands influenced by hip hop culture;
– Performances by some of Ethiopia's most alternative creatives, selected out of a call:
*All day: ~Participative graffiti work by Addis Street Art – አዲስ
~Visual and sound installation by Sarah Bushra & Yasmin Abdu Bushra
~all sort of games (board, digital, experience etc) by Chewata Awaqi – ጨዋታ አዋቂ/
~skateboarding by Ethiopia Skate
*3pm: a catwalk by fashion designer Melat Mulugeta, an active wear collection for with graffiti prints
*3.45pm: live set by Ethio's Hip Hop Community
*5pm: "rock, paper, scissors"by Chewata Awaqi – ጨዋታ አዋቂ
*5.30pm: a pluridisciplinary performance by Dia Sherif & Betty Abebe (music, prose, dance)
*6.30pm: Sheba Sound (UK) meets MC's from Ethio's Hip Hop Community for a unique set
– 8pm: we are stoked to wrap up the day with one of the hottest band on the continent: seven-piece ensemble BCUC, aka Bantu Continua Uhuru Consciousness, from Soweto, South-Africa. After taking on the world, we are excited to have them shake up Addis Ababa with their unique "hypnotic hip-hop" that incorporates indigenous music with ritual and traditional songs, infused with rap and a rock & roll attitude. Fire fire fire.
Time to shed light on this unvarnished culture.
From 2pm – 10pm.
Food and drinks available all day.
Free entrance
Stay tuned on the Facebook event here.
This entire festival is made possible thanks to the support of Ambassade de France en Éthiopie, BGI Ethiopia PLC, European Union in Ethiopia, The Embassy of Canada to Ethiopia, Embajada de España en Etiopía, Yibuti y Seychelles, Goethe-Institut Addis Abeba, LinkUp Addis.