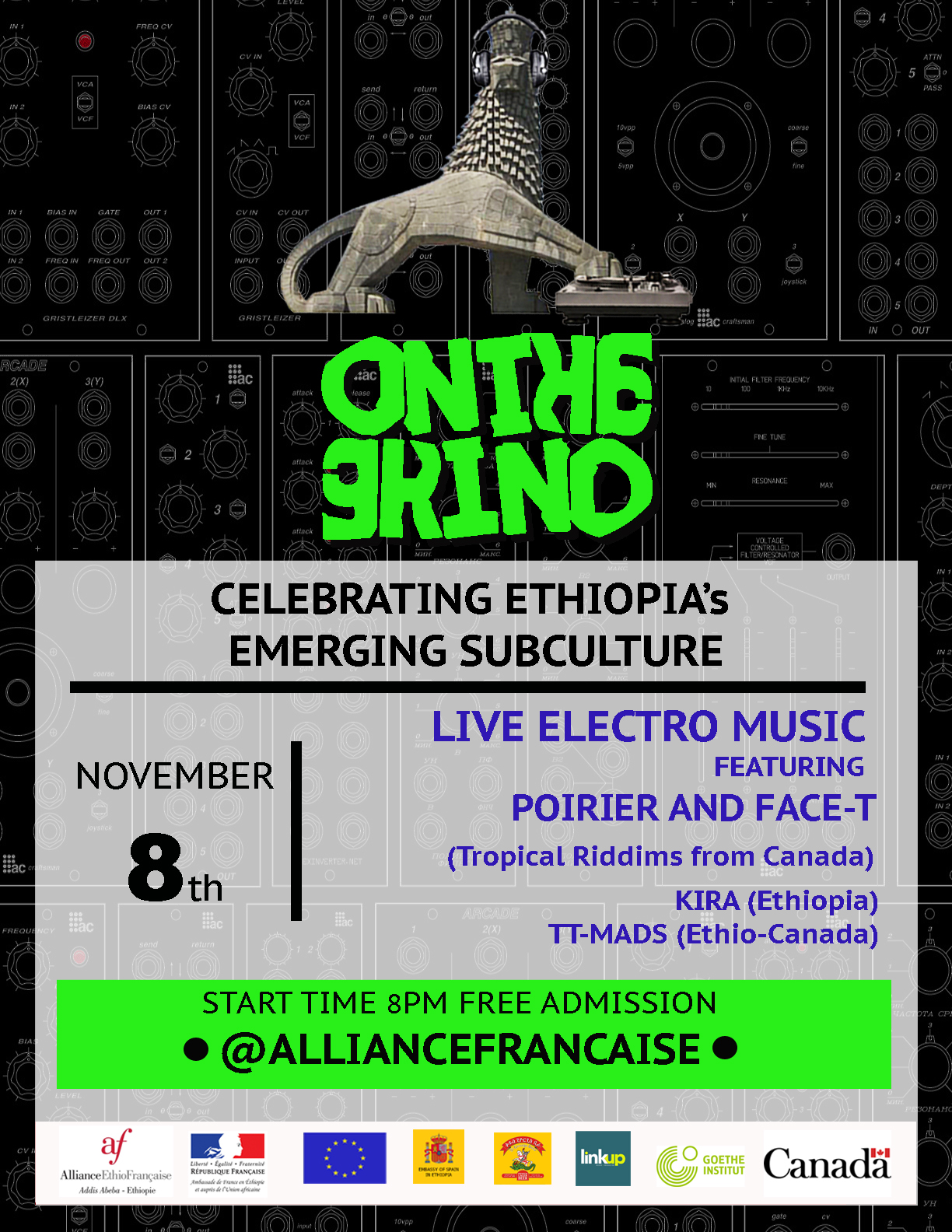 On the Grind: Live electro music feat. Poirier & Face-T (Canada)
As part of the #onthegrind2019 festival, we invite you for a special night of ethio-tropical beats.
The evening will kick off with Tinnish, Tillik & friends (Ethio-Canada) playing a mix of dancehall and lively electro music.
Dj Kira from Ethiopia will follow, offering a live set fusing Ethiopian as well as African elements with electronic music.
Finally, we are proud to have Poirier and Face-T from Canada to get everyone moving to their unique style of tropical riddims.
Poirier is a DJ / producer from Montreal specializing in tropical bass and urban electro who has released music with Ninja Tunes, Mixpak and Nice Up! Records.
Born in Québec and having spent over 15 years of his life in Jamaica, Face-T is a veteran of the reggae and dancechall scene (full bios below).
Poirier's website.
His music here.
This entire festival is made possible thanks to the incredible support of The Embassy of Canada to Ethiopia, Ambassade de France en Éthiopie, BGI Ethiopia PLC, European Union in Ethiopia Embajada de España en Etiopía, Yibuti y Seychelles, Goethe-Institut Addis Abeba LinkUp Addis.
ARTIST BIOS
Poirier:
Specializing in warm electronic music, Poirier is a prolific and eclectic Canadian producer, musician and DJ. Constant in his music is a desire to build bridges across languages, communities, and cultures. Poirier has delivered his brand of music and openness to people in over 30 countries and major international festivals including in Uganda, South Africa, Haiti, Cuba, Senegal, Cabo Verde, China, Mexico, UK, Switzerland, France, La Réunion, Russia, Belgium, and Australia. Poirier's Qualité de Luxe dance parties dedicated to African and Caribbean music have attracted capacity crowds in Montréal for over five years. He has produced 10 albums and many EPs with labels such as Wonderwheel Recordings and Ninja Tune and created a remix album of legendary Québec songwriter Robert Charlebois. Poirier was awarded the ADISQ Producer of the Year with producer/singer Boogat in 2013. In 2016, he released "Migration", an album of reggae, electronic, dancehall and dub. In 2017, he released the "Be Alright" EP collaborating with Mozambican-Canadian singer Samito.
Face-T:
Born in Québec and having spent over 15 years of his life in Jamaica, Face-T is a veteran of the reggae and dancechall scene. In the early 2000s, he formed the Montréal group Kulcha Connection that became a success with two albums nominated for Juno Awards. More recently, Face-T has collaborated with international artists including Mungo's Hi Fi (UK), Black Tiger Sex Machine, Crookers (Italy), Riddimwise, Dreadsquad (Poland) and Poirier and Dubmatix (Canada). In 2012, he released his solo album "Tuff Like Stone" co-produced by Poirier, and two EPs in 2015 and 2016. Face-T has collaborated with Poirier on his last three albums: No Ground Under (2007), Running High (2010) and Migration (2016) and is part of the Poirier Migration Soundsystem show that performed at Uganda's Nyege Nyege Festival (2017).