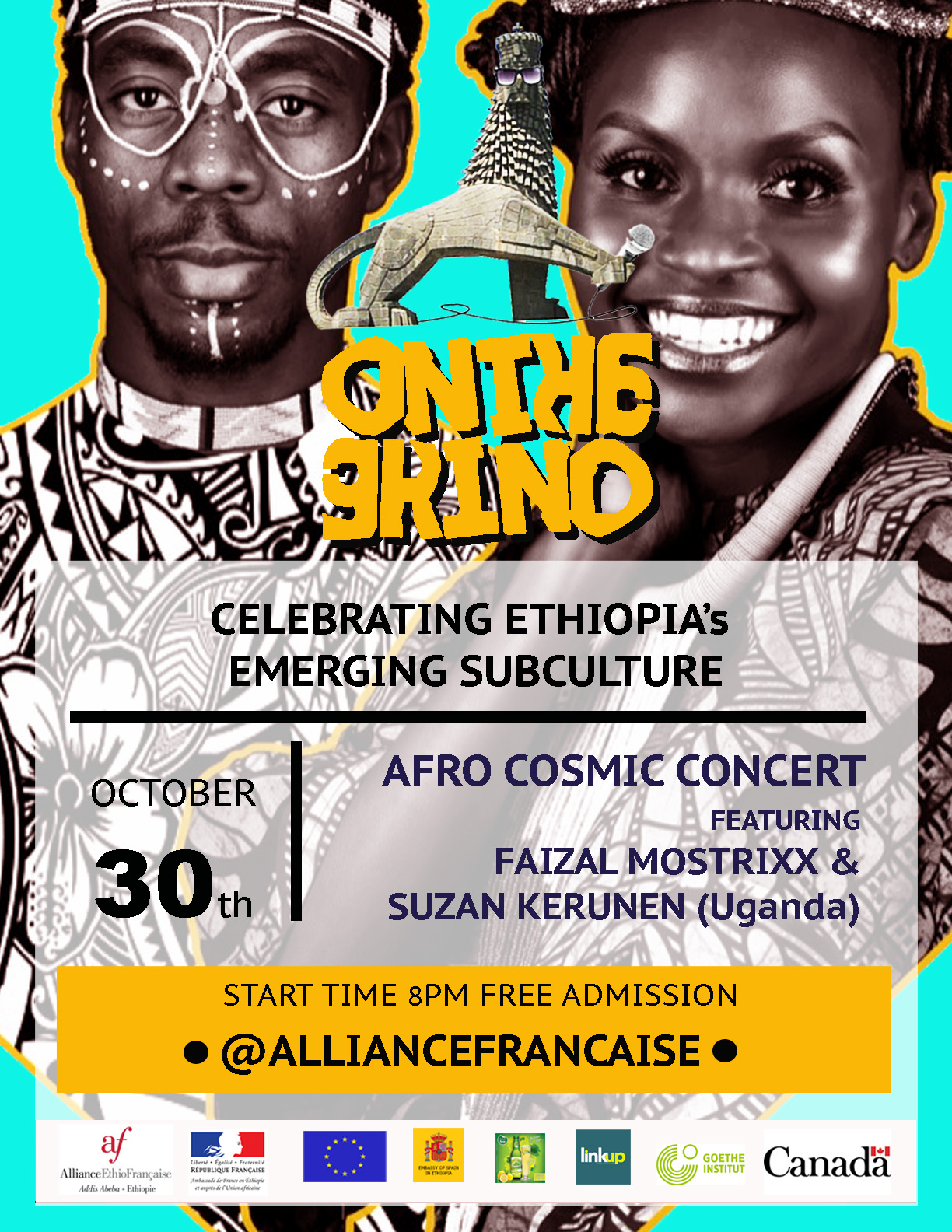 Afro Cosmic Concert: Faizal Mostrixx & Suzan Kerunen (Uganda)
As part of the "ON THE GRIND" festival, we're bringing in a bold and pulsating musical project from Uganda, which fuses ancient influences from central Luo culture with hypnotic electronic beats.
Ugandan resident Dj and Electronic music producer FAIZAL MOSTRIXX MUSIC is collaborating with Alur queen Suzan Kerunen creating an electro folk fusion performance. The set features original vocals of Suzan Kerunen alongside Njige, Agwara and Ndara drums. Dynamic synths and bass lines to make you dance and groove taking you to a whole new cosmic afro-journey.
Are you all ready?
Free entrance.
Stay tuned on our Facebook event here.
SUZAN KERUNEN: hailed as the "Alur queen" Ugandan singer Suzan has been enchanting audiences with her music done in her local Ugandan languages of Alur-Jonam (her luo mother tongue), Kiswahili, English and French. Kerunen's music
Kerunen's music offers a bold cultural statement through which all of her ancestral influences from Nebbi-Junam and Zombo palwo come to life. Truly dedicated to her Alur roots in North Western Uganda boarder region with influence from both Ugandan and Congolese culture, her music clearly spells the desire to break all cultural boundaries used to keep people divided. Suzan has rapidly established herself as one of the new voices in African music.
FAIZAL MOSTRIXX: Faizal Ddamba Mostrixx is undoubtedly one of the most original talents to emerge from the new East African electronica scene. He is now a regular feature on the Ugandan festival and club scene, managing his own night – Kalabash – and headlining at esteemed festivals such as Bayimba (Uganda ), African Nouveau (Kenya) and Nyege Nyege (Uganda). He's visited us in Addis a few times by now, each of his stays revealing a different aspect of his incredibly wide and versatile artistry.
Unlike many of his contemporary African electronic producers, Faizal draws more from his native Ugandan music tradition, than from international influences. Faizal does not simply transpose African sounds into a 'house' or 'electro' template; he makes a radically new form of African dance music.
The rhythms, chord sequences and patterns are combined with heavily- processed sounds of Ugandan singers and traditional instruments. It is unmistakably Ugandan, yet like no other Ugandan music ever made before. Faizal uses electronica as a way of channeling his cultural heritage, not the other way around.
This entire 3-week festival is made possible thanks to the support of Ambassade de France en Éthiopie et auprès de l'Union africaine የፈረንሳይ ኤምባሲ, BGI Ethiopia PLC, The Embassy of Canada to Ethiopia, the European Union in Ethiopia, Embajada de España en Etiopía, Yibuti y Seychelles, Goethe-Institut Addis Abeba, LinkUp Addis.