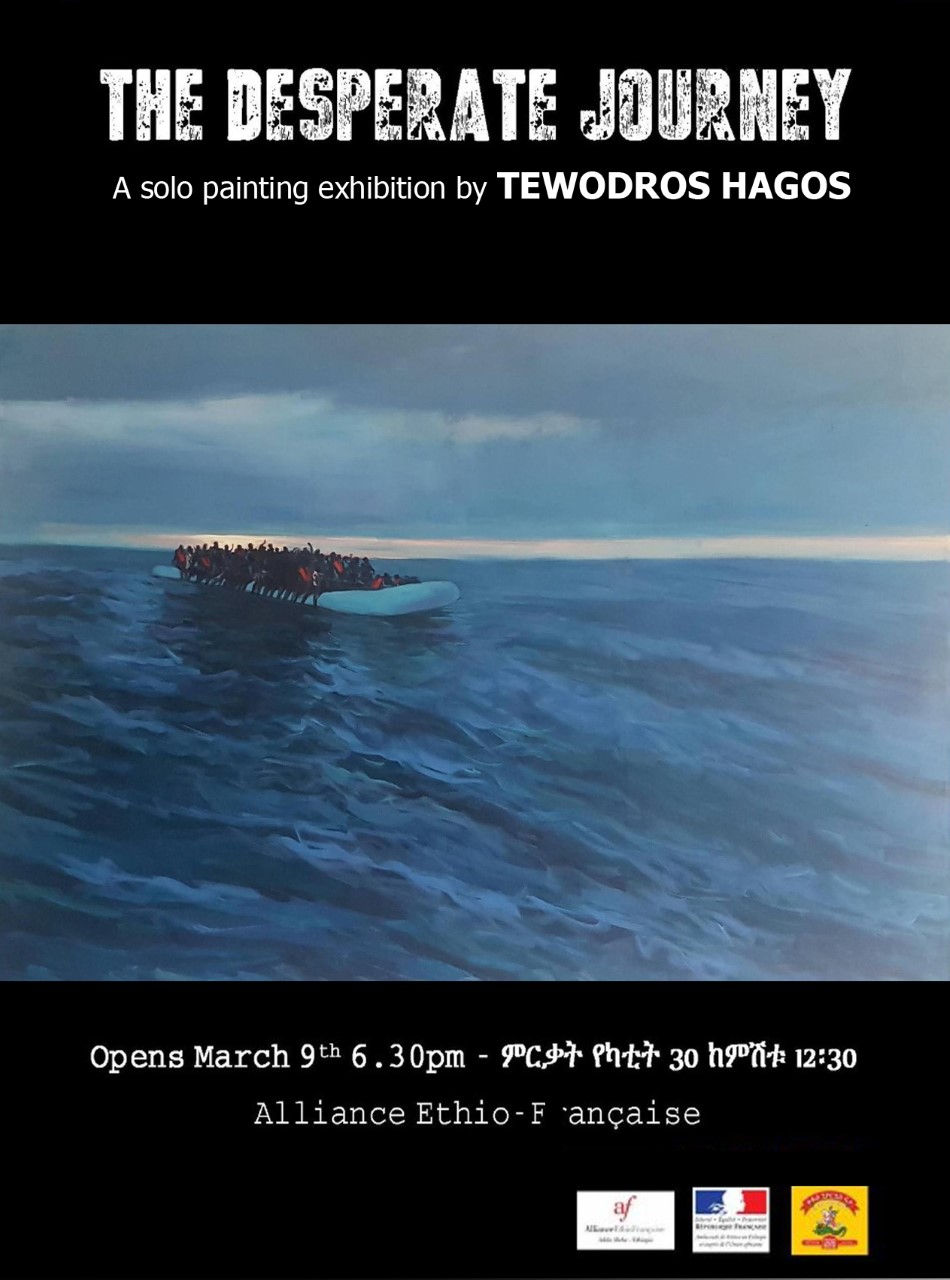 Tewodros Hagos solo exhibition: The Desperate Journey
Don't miss on Tewodros Hagos's new solo exhibition. Through this new series of work, the internationally acclaimed Ethiopian paintor adresses the current issue of migration. A touching project depicting a human tragedy.
"The first inspiration happened when I saw the shocking news about the body of a Syrian boy found lying face-down on a beach near Turkish resort Greece. From that moment on, I couldn't stop thinking about this "Desperate journey". Then I started to research further about this issue. The more I read, the more I felt we humans are so little, so fragile on this planet; and yet we have caused so many problems to one another. Therefore, innocent victims move from place to place risking their lives in search for better futures.
Every year, thousands of migrants from Africa and Asia risk their lives on this desperate journey. Many of the migrants lose their lives and some make it to their destination. Humanitarian organizations, groups and individuals are doing consistent efforts to rescue as many lives as they can, but, I suppose, the migration crisis across the Mediterranean sea still remains one of the worst humanitarian crisis in our time.
Nonetheless, hearing about migrants dying has unfortunately become a "normal" daily news on media outlets, therefore worsening the challenge on the international geopolitical arena.
For how much longer should we watch this human tragedy? Are we trying enough to change this problem from its root? Or are we just getting used to it? What is going on behind all these atrocities?"
As a painter, Tewodros tries to embed those questions in his exhibition. The works can be split in two groups:
– the ones that depict boats and tiny figures (with a limited color pallet of blue and gray) under dark gray sky, within the vastness of the sea, the sea that devoured many souls gloomy desperate journey.
– the ones depicting survivors in closeup, wearing their safety vest or silver and gold blankets.
In this way, the artist aims to re-examine this never ending situation that is becoming acceptable and wishes to challenge the viewers to raise their concern and act upon it in their own way.
Tewodros Hagos was born in 1974 in Addis Ababa, Ethiopia. He graduated from the Addis Ababa University School of Fine arts and Design in 1995. In 1998, Tewodros left for Belgium, where he stayed for over ten years living and working in Antwerp. Since his return to Addis Ababa, Tewodros has managed to establish a distinct style in portraiture in Ethiopian painters of his generation. His work has been presented at numerous solo exhibitions in Addis Ababa, as well as in Belgium, Germany, Italy, the Netherlands and USA.
Free entrance
Facebook event page here