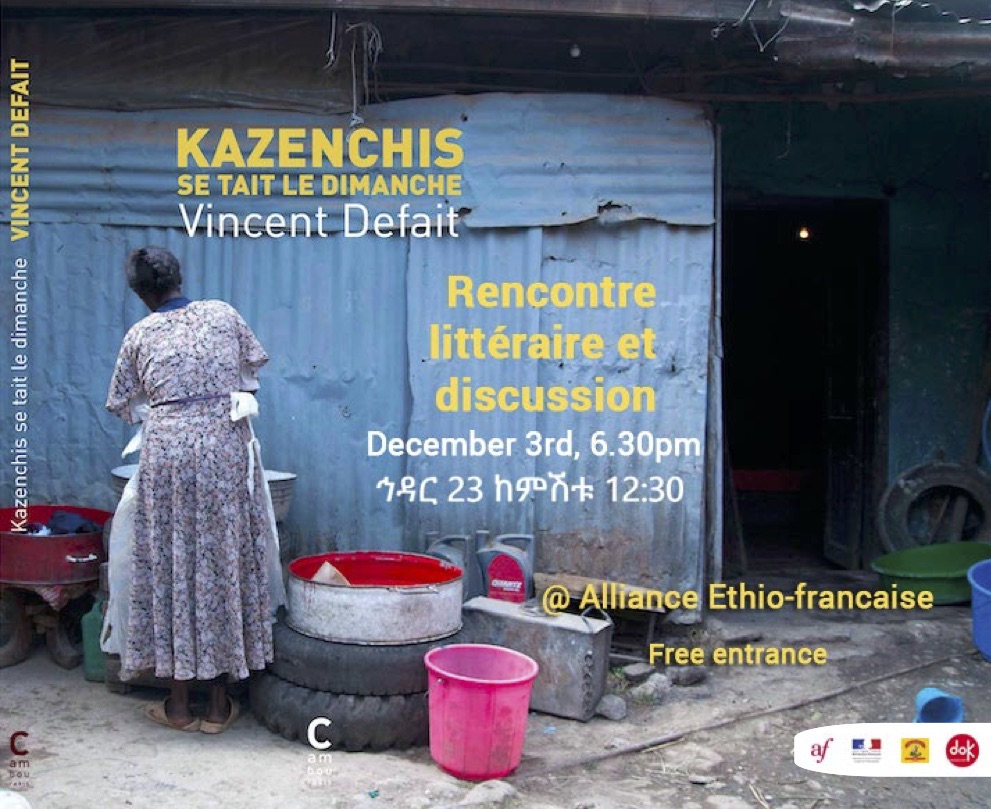 Rencontre littéraire: Vincent Defait
Meet with Vincent Defait, author of "Kasenchis se tait le dimanche" (In french).
As Ethiopia is celebrating Fassika, Mitiku and Solomon agreed to meet in Kazenchis, Addis Ababa's neighbourhood where they both grew up. The two childhood friends have lost touch of each other for years. Mitiku works as a taxi driver, whereas Solomon supervises the construction of a mega dam – a consecration of the Ethiopian renaissance. Their reconciliation will have to overcome many obstacles. Among them: resentments, a promise impossible to fulfil and a fast-changing country.
Journalist for many years, Vincent Defait has lived in Ethiopia in 2011-2016. "Kazenchis se tait le dimanche" is his first novel.
Free entrance.
Discussion in French.
Rencontre autour de « Kazenchis se tait le dimanche », un roman de Vincent Defait.
En ce jour de Fassika, Mitiku et Solomon se sont donné rendez-vous à Kazenchis, le quartier d'Addis-Abeba où ils ont grandi. Complices d'enfance, ils se sont perdus de vue. Mitiku gagne désormais sa vie comme chauffeur de taxi, Solomon, proche du pouvoir en place, supervise la construction d'un barrage censé consacrer la renaissance de l'Éthiopie. Entre eux, des rancœurs, une promesse impossible à tenir et un pays en pleine transformation.
Longtemps journaliste (Médiapart, Le Monde Afrique, Revue XXI…), Vincent Defait a vécu en Ethiopie de 2011 à 2016. Kazenchis se tait le dimanche est son premier roman.
Entrée libre.
Facebook event here.