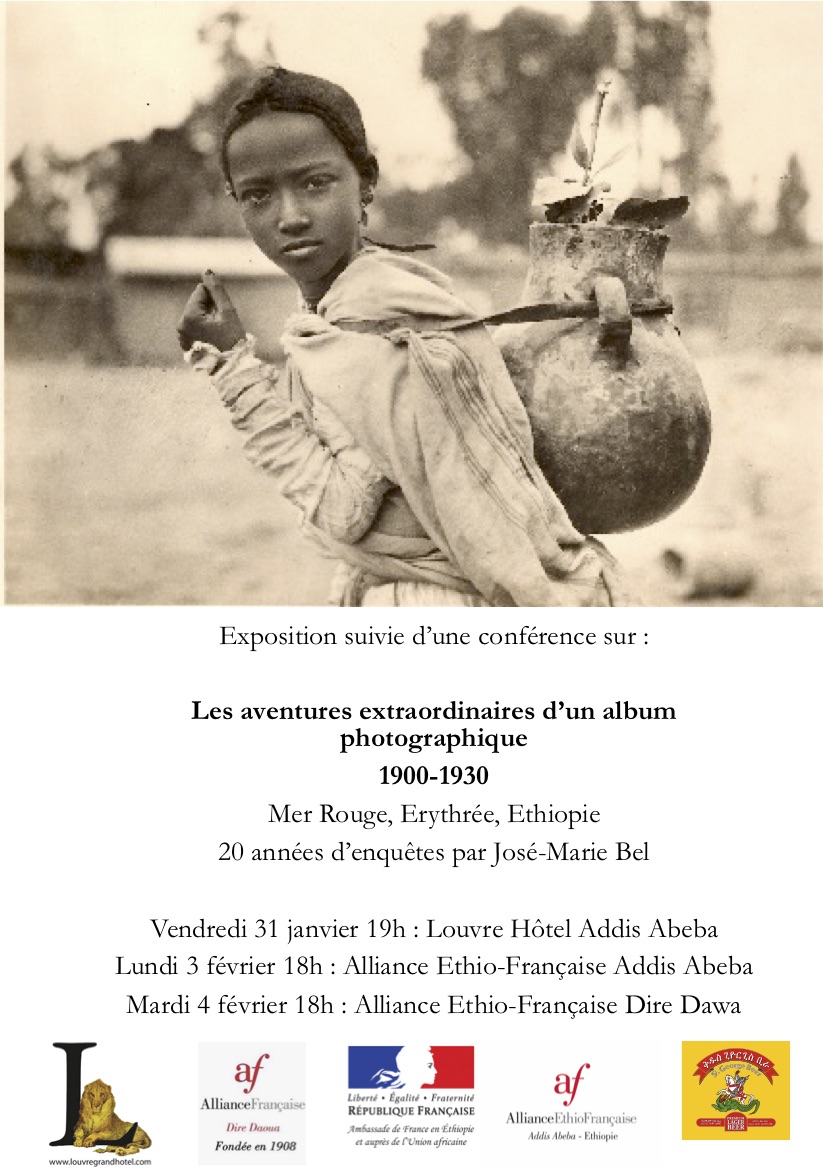 Ethiopia –Eritrea: Exhibition of old photographs & conference by José-Marie Bel
An exhibition of old photographs, "Ethiopia – Eritrea: Historical Albums", followed by a conference hosted by French ethnologist and historian José-Marie BEL.
Since 1974, José-Marie Bel, French ethnologist and historian, has focused his studies and works on the heritage of the Horn of Africa and South Arabia. He carried out research there, in particular on the history and iconographic memory of the years 1880 to 1941. Over 20 years ago, he discovered the existence of amazing photographic albums produced by one or more Italian photographers in the years 1910- 1930: a monumental collection in black and white.
The albums are all named "Fondazione dell'impero IX maggio Anno XIV" with reference to May 9, 1936, the date of Italy's annexation of Ethiopia and Somalia. Despite this title, this monumental album is a tribute to what was Abyssinia at that time, a panorama depicting its beauties, its characteristics, its people. There are a few rare Italian style buildings, signs of the colonial presence, and many landscapes, natural sites, unknown villages, ancient cities and archaeological monuments. There are above all various ethnic groups, splendid portraits of men, women and children as well as scenes of worship, ritual or simple everyday life. These albums still contain mysteries: name of the photographer (s), exact dates, means, types of cameras used (because there are splendid panoramas)?
José-Marie Bel, ethnologist, historian, visual artist, architect, restorer of the Maison Rimbaud in Aden (Yemen, 1992-94) will facilitate a discussion after the opening of the exhibition. He has produced a large number of exhibitions, conferences and missions. He is the author of fifteen books. He is the co-founder with Professor Théodore Monod of the Queen of Sheba Space, former president of the Amis de Rimbaud, member of the Geographical Society.
Discussion in English.
Free entrance
Facebook event here
——————————————————————————————————————-
Vernissage d'une exposition de photographies anciennes, "Ethiopie –Erythrée : Albums historiques", suivie d'une conférence animée par l'ethnologue et historien français José-Marie BEL.
Depuis 1974, José-Marie Bel, ethnologue et historien français, axe ses études et travaux sur le patrimoine de la Corne de l'Afrique et de l'Arabie du sud. Un parcours, une passion. Il y effectue des recherches notamment sur l'histoire et la mémoire iconographique des années 1880 à 1941. Il y a plus de 20 ans, il découvre l'existence d'étonnants albums photographiques réalisés par un ou plusieurs photographes italiens dans les années 1910-1930: une collection monumentale en noir et blanc.
Les albums sont tous nommés « Fondazione dell'impero IX maggio Anno XIV » en reference à la date du 9 mai 1936, date de l'annexion par l'Italie de l'Ethiopie et de la Somalie.
Malgré ce titre prétentieux, ce monumental album est de toute évidence un hommage à ce pays qu'est l'Abyssinie à cette époque, une sorte de panorama représentant ses beautés, ses caractéristiques, ses peuples. Le butin… bien heureux. Il n'y a pas d'Italiens, mis à part quelques rares édifices, signes de la présence coloniale, mais de nombreux paysages, des sites naturels, des villages inconnus, des cités anciennes et des monuments archéologiques. Il y a surtout diverses ethnies, de splendides portraits d'hommes, de femmes et d'enfants ainsi que des scènes cultuelles, rituelles ou de la simple vie quotidienne.
Ces albums recèlent encore des mystères : nom du ou des photographes, dates exactes, moyens, types d'appareils utilisés (car il y a de splendides panoramas)?
José-Marie Bel, ethnologue, historien, plasticien, architecte, restaurateur de la Maison Rimbaud à Aden (Yémen, 1992-94) a réalisé un grand nombre d'expositions, conférences et missions. Il est l'auteur d'une quinzaine d'ouvrages. Il est le co-fondateur avec le professeur Théodore Monod de l'Espace Reine de Saba, ancien président des Amis de Rimbaud, membre de la Société de Géographie.
Discussion en anglais.