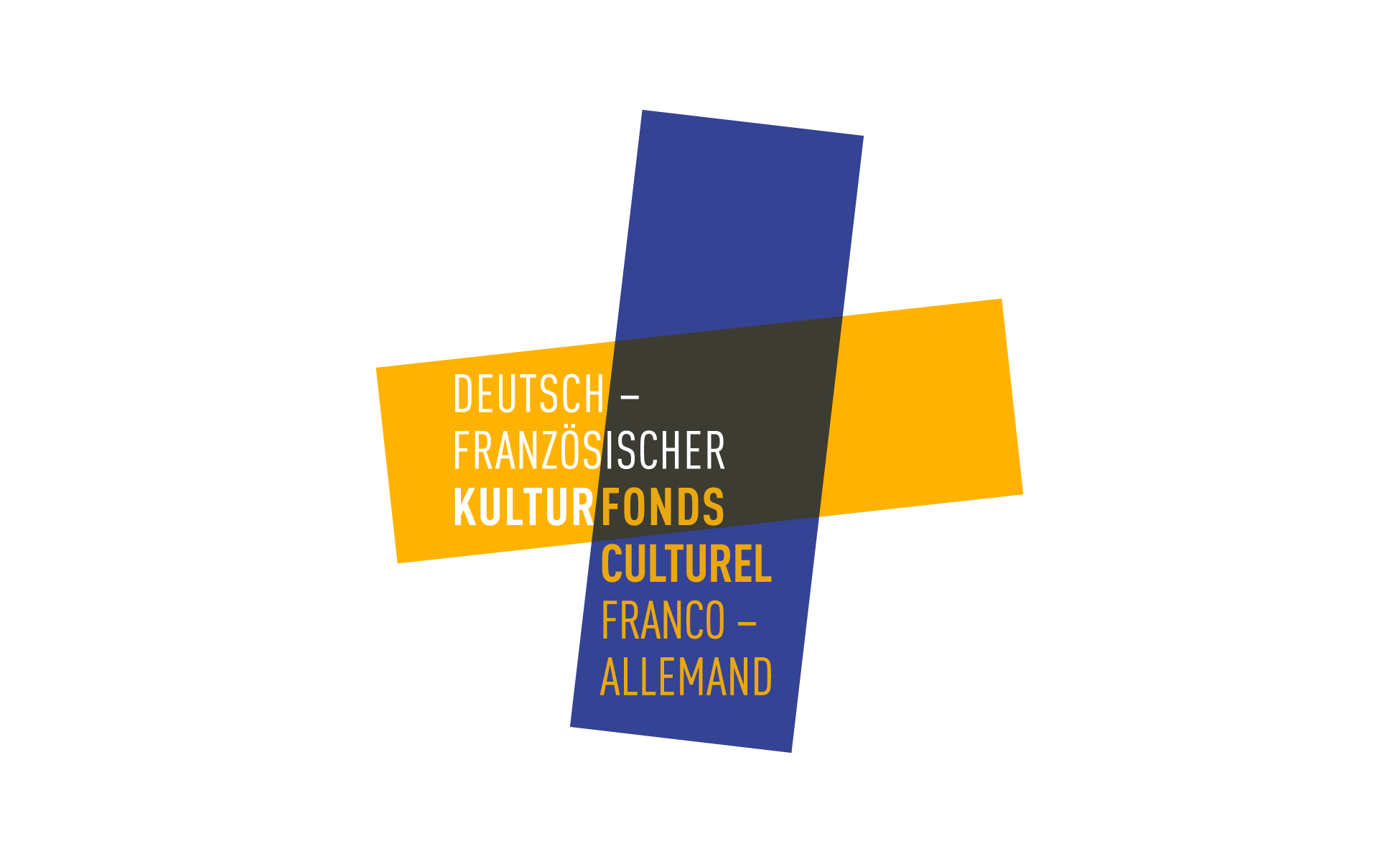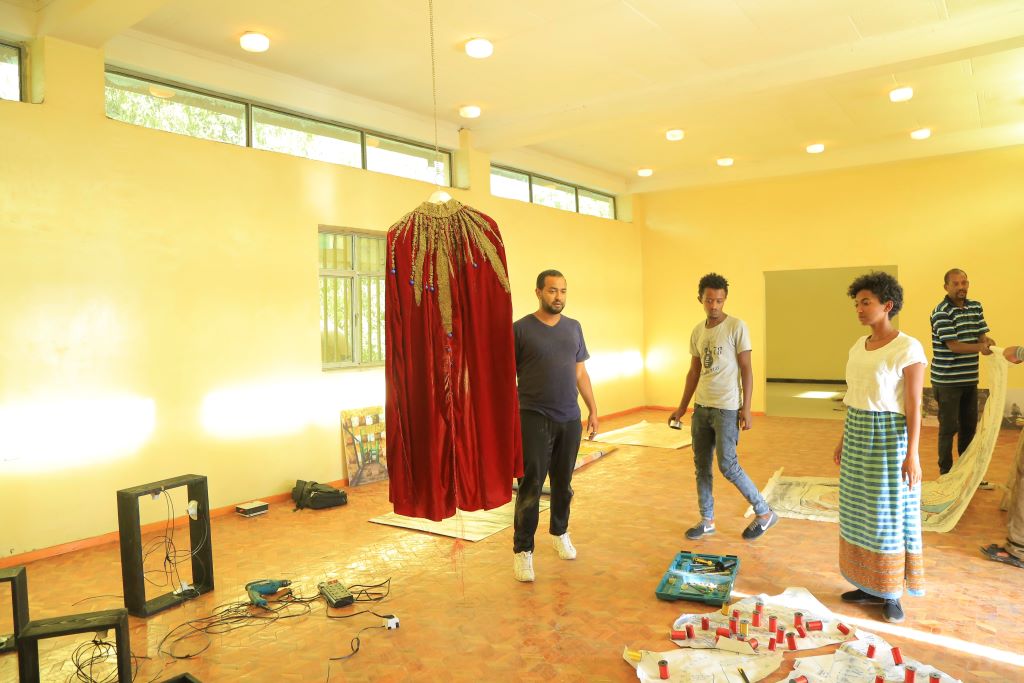 "Âges, partages, héritages : un laboratoire éthiopien"
In 2018, Alliance and the Goethe Institut carried out a project called "Harar-Shoa: a geographical passion", which aimed at creating a dialogue between the legacy of European explorers who travelled to Ethiopia in the 19th Century, and contemporary Ethiopian artists.
Further to examining archives, workshops and travelling to the Choa region, a group of eight young artists and social researchers tried to reclaim, revisit and rewrite their history in a contemporary language, giving rise to surprising pieces of art made of a large variety of media (2D animation, sculpture, video, photography etc) exhibited at the Institute of Ethiopian Studies in Nov 2018.
In 2019, we were awarded again by the Franco-German fund to leverage on a very successful collaboration, and further develop the project in Ankober, Aliyu Amba and Addis Ababa.
Details of the programme
Ankober Museum: display of the creations of the artists involved in Harar-Shoa, a geographical passion 2018. Work with schools in Ankober: introduction into the exhibition, historical background, workshop to produce new artwork based on the display. This project element is led by Mifta Zeleke. It took place in April 2019.
Ankober Museum: set up of a permanent exhibition in the museum, integrating the creations of the artists involved in Shoa, a geographical passion 2018, the 2019 workshops' creations with Ankober schools, and prints of historical documents from European archives (maps, photographies etc.). This project element is led by Hugues Fontaine. The exhibition in the Ankober museum will be opened at the end of October 2019.
Aliu Amba: handover of prints of historical documents from European archives (maps, photographies etc.) to the local community for their community house. This project element is led by Hugues Fontaine. The handover will take place in the second half of October 2019.
Addis Abeba: final event in Addis Abeba at Guramayne Art Center (exhibition of the outcome of the project) and at the Goethe-Institut or the Alliance éthio-française (Round Table). This project element is jointly led by Mifta Zeleke and Hugues Fontaine and will take place on 6 December 2019.
THE CURATORS
Mifta Zeleke was born in 1984 in Gainbe near Jimma in Ethiopia. He graduated with BA in English Languages and Literature in 2010 and with MA in TEFL (Teaching English as a Foreign Language) in 2013 from Addis Ababa University. Though his passion for literature is edged by irregular articles on paperbacks and a translation of the book 'The Stranger' by Albert Camus to Amharic, the experiences of reading and writing was a crucial element to enable him develop a career in curating. His affiliations to the visual arts enabled him to gradually get involved in the country's art scene. Collaborations with artists, taking part in Public Relation works in exhibitions and festivals, organizing talks, working for the establishment of Galleria TO.MO.CA (Addis Ababa) and founding the Guramayne Art Center (March 2014) where he mainly practices curating are traces in his journey. Mifta also lecturers in the Alle School of Fine Arts and Design, Addis Ababa University since 2014 teaching courses on curating; and writings and research in visual arts.
Hugues Fontaine is a French photographer and documentary film maker and has published several books in which he presents his photographs of Egypt, Yemen or Eritrea. He is the author of "African Train/Un train en Afrique, Djibouti~Ethiopie", published in 2012. 
The aim of the book is to document an industrial heritage and to highlight the role of railway workers in its development and its conservation.
FLASHBACK on "SHOA, A GEOGRAPHICAL PASSION" (2018)
Ethiopia, once known in Europe as Abyssinia, attracted at the end of the 19th century many European travelers, researchers and traders. From these different geographical and ethnographic expeditions we inherited an important collection of maps, descriptions of people and landscapes, drawings, letters and photographs. These documents by European explorers, working with local partners, are precious testimonies for Ethiopian historiography.
The project "Shoa. A geographical passion" has chosen to revisit this common Ethiopian-French-German heritage. Today's research group of young Ethiopian artists, photographers, historians, geologists and anthropologists are joined with the European travelers from the 19th century in their passion for the area of Shoa, its people, landscape, traditions. With this project, Goethe-Institut and Alliance Ethio- française, with the support of French Embassy, foster the reclaim of the documentary material from an Ethiopian perspective.
We would like to thank the two curators Hugues Fontaine (France) and Mifta Zeleke (Ethiopia) for accompanying the project, the eight Ethiopian travelers who have embarked on this experiment, the French- German Cultural Fund for the financial support, CFEE for its collaboration, and the Institute for Ethiopian Studies for hosting the exhibition.
We hope this project will open the dialogue and prepare the way for future research and artistic creations.
Artists and researchers involved in the project:
Abel Assefa (b. 1990) was born in Addis Abeba. He Studied Heritage Conservation with a BSc from Mekelle University and Master's Degree as Bachelor of Art in Archeology from Addis Ababa University. He also earned various certificates and diploma in trainings related to his field. Abel also practices photography and is trained in painting as well. Since 2012, he is working at Authority for Research and Conservation of Cultural Heritage (ARCCH), as expert of Heritage Conservation & Managment; and Arcehologist. He particpated and presented reaserch papers in the 20th International Conference of Ethiopian Studies (ICES20) in 2018 and Creative Ethiopia – 10th International Confrence on the History of Art and Architecture in 2015 held in Mekelle University.
Bethlehem Molla (b. 1992) was born and raised in Addis Ababa. She is a 2016 graduate of the Alle School of Fine Arts and Design of Addis Ababa University where she received her BFA in Design. She is the founder of Dede Studio, a place where she and her friends create creative digital arts, illustrations, animations and related works. Bethlehem has won several art competitions locally and internationally. She has participated in different kinds of group exhibitions in the past three years in Ethiopia. Bethlehem is a color fanatic in making illustrations and comics.
Leikun Nahusenay (b.1982) was born in Addis Ababa. He is a graduate of Entoto TVET College in 2011 from the Graphics department. However, his artistic ambit is best expressed in photographic experimentations. Leikun enriched his exposure in various workshops and exhibitions both in Ethiopia and abroad like the UK, Germany, France and South Africa.
Maheder Haileselassie (b. 1990) is a photographer born and based in Addis Ababa, originally trained as a civil engineer. She founded CPE – Center for Photography in Ethiopia and has since been coordinating workshops and exhibitions under its roof. Maheder is the creator of @everydayethiopia and a contributor for @everydayafrica on instagram. She freelances for major news agencies like AFP and REUTERS and is a member of the platform Women Photograph. Her work has been published in the book "Mfon: Women Photographers of the African Diaspora". She has participated in World Press Photo, The Netherlands, 2018; Ray Festival, Germany, 2018; Image Festival Amaan, Jordan, 2018; Stories, Egypt, 2017; Inspiring Women, Ethiopia, 2017; World Press Photo, Zimbabwe, 2017; Photojournalists in Conflict, Finland, 2016; In Quest for, 2016, Ethiopia; In Quest for,2017, UPPA, Uganda.
Nathan Belay (b. 1989) in Debre-Markos received his first Degree in Anthropology from University of Gondar in 2010 and his Masters Degree in Social Anthropology from Addis Ababa University in 2014. Since 2011, he has been teaching at Samara University, in the department of Anthropology. Nathan has experiences of conducting research in pastoral communities of Afar, the Amhara of Gojjam and Woyito community around Bahir Dar. Culture, Harmful Traditional Practices, Climate Change, politics, religion, philosophy of art and slave trade are his interests of research themes. Moreover, Nathan is a trilingual scholar who speaks Amharic, English and French languages. He took different philosophical trainings in Cameroun and France as well.
Rahwa GebreLibanos (b. 1994) was born in Zalanbessa. She is currently teaching at the Alle School of Fine Arts and Design of Addis Ababa University where she received her BFA in Sculpture in 2016. Her recent works are mainly focused on capturing the mindful connection of human and their everyday experience. Rahwa took part in several group exhibitions in Ethiopia since 2015.
Selome Muleta (b. 1992) was born and grew up in Ziway. She attended art classes for one year at the Abyssinia Fine Art School in 2011. Selome also joined the Entoto TVET College of Fine Arts. Though she is in her early career as a painter; Selome's evident style of painting has proffered unique characteristic to her recent works. She exhibited a solo exhibition at the Fendika Cultural Center in 2017 and participated in several group shows in Addis Ababa, Ethiopia.
Wessen Shiferaw Tadesse (b. 1984) is currently a PhD candidate at the L'Ecole Des Hautes Etudes En Sciences Sociales (EHESS) (School for Advanced Studies in Social Sciences) in Paris, France. He has obtained Master's Degree in Indigenous Cultural Studies (2008) and Bachelor Degree in History and Sociology (2006) from Addis Ababa University. Wessen got training in Gender Sensitive Research Methodology and Ethnomusicology. During his student years, he won the 2008 Addis Ababa University Student Research Grant Award for graduate students. In 2009, he joined Debre Berhan University, where he still carries out academic works: teaching, research and community service in heritage studies. His research interest includes cultural heritage, cultural memory and cultural practices.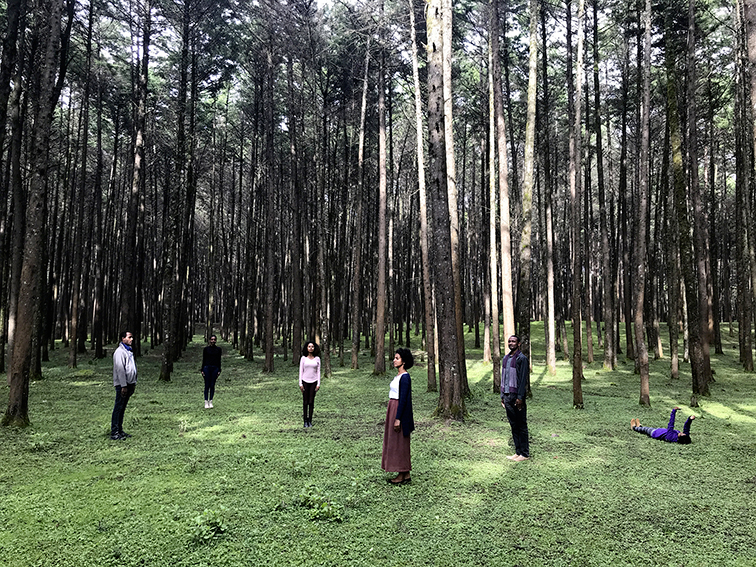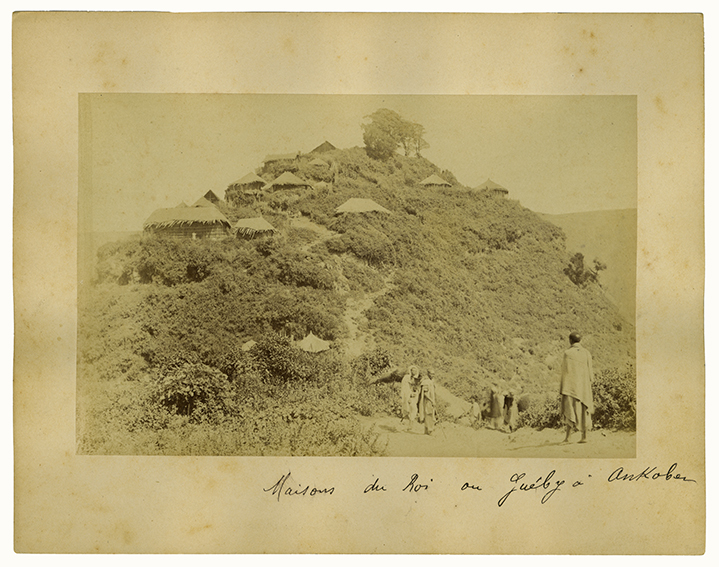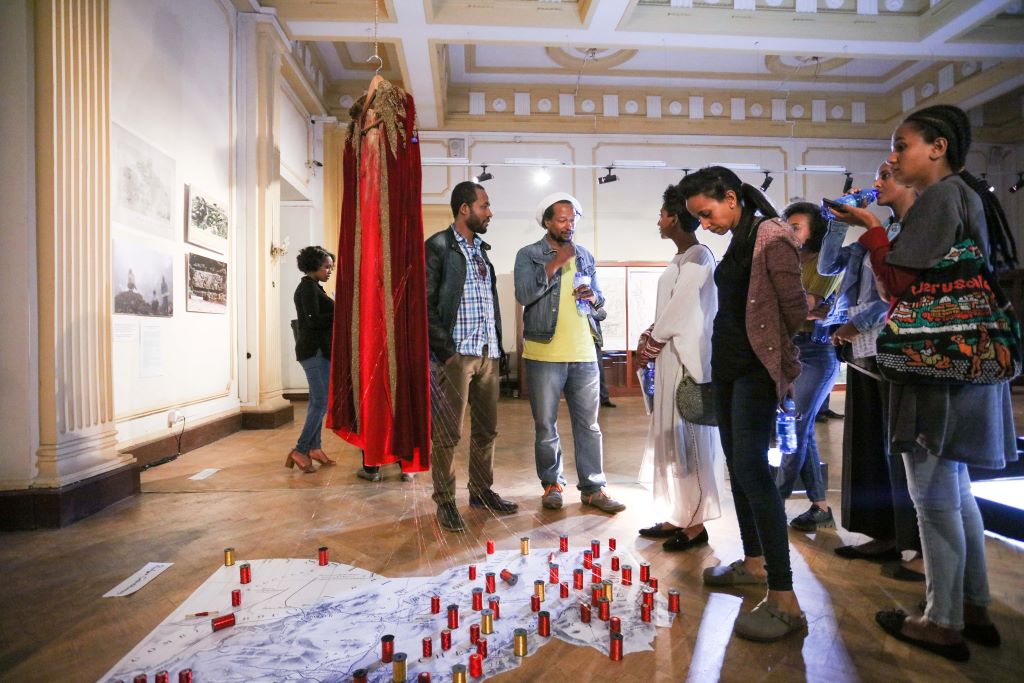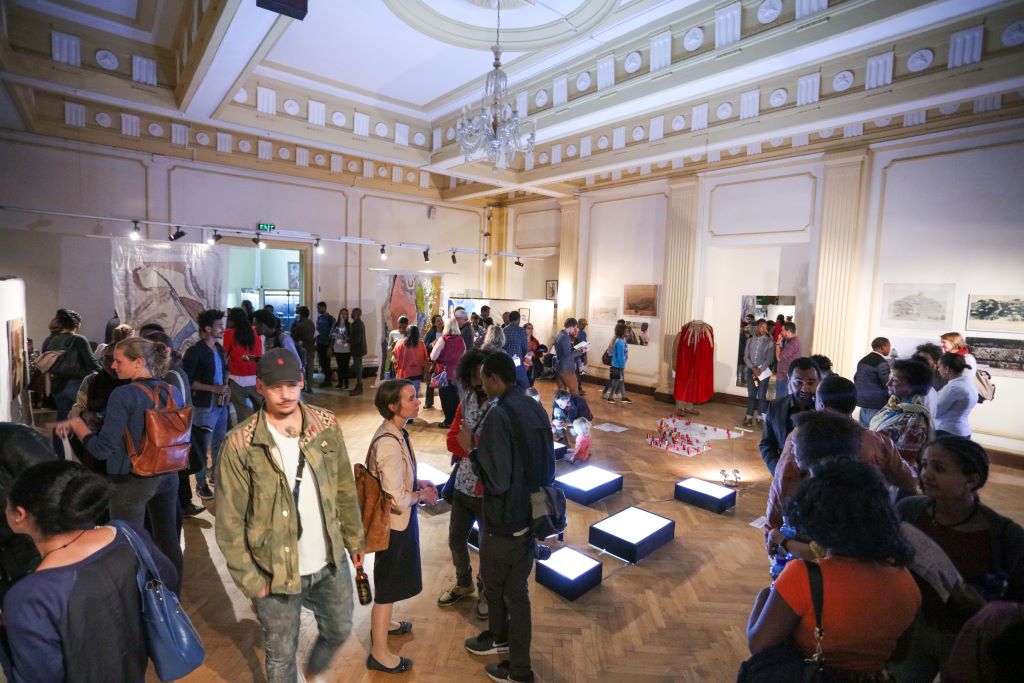 This project was made possible thanks to the support of the following partners: